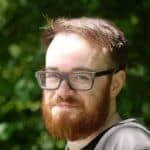 Oh me, oh my, I never expected to win! I'm so excited to be able to make a podcast to continue clueing you all up on what it's like to be a scientist and what kinds of questions we're all trying to answer when we're not trying to furiously answer all of yours.
I'm happy to have won, but to be honest I'm more happy to have taken part; I got to answer 232 of your awesome questions outside the live chats, and I don't even know how many inside the live chats, and I'm sure I definitely missed some others. I'm really glad too to have met (at least online) Sajid and Jayne and Anu and Katherine, and I was really happy when they were able to answer the questions I was iffy on. It gave me the opportunity to just ramble on about stuff that I enjoy, knowing that these other super clever scientists would be answering what you'd actually asked.
I'd like to thank the mods for their hard work keeping the wheels on the whole thing and best of all making sure that everything was always civil and a fun place to hang out. I'm going to miss the hectic chats, and also the calm before the storm when I would get to have a quiet chat with the mods and other scientists while we waited for the classes to log on.
Finally I'd like to thank my friend Clara for getting me to apply for this. I've had an absolute ball, and it's all her fault.
Scientists! If you'd like the chance to win funding for your own public engagement work, apply for the next I'm a Scientist, Get me out of here: imascientist.org.uk/scientist-apply