Profile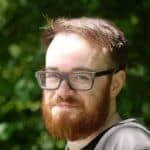 Duncan McNicholl
Optical Physicist
Curriculum Vitae
Education

I went to Musselburgh Grammar School (not actually a grammar school), Cambridge, UEA, the Open University and now Heriot-Watt University

Qualifications

An MSci in chemistry and a BSc in Physics. Oh, and I did teacher training.

Work History

GAME, The Colonsay Hotel, The Reel cafe, Cambridge Assessment and Heriot-Watt

Current Job

PhD Candidate
Favourite thing to do in my job: Realising that I don't know how something works

About Me: A wee ginger-bearded physicist with a love of waistcoats

Read more

I'm just a guy, you know? I live in Edinburgh, just near where I grew up, I like waistcoats and bow-ties, because both are extremely cool, I write a bit and read a lot, and I probably shouldn't be allowed a Netflix account (sometimes days just disappear).

My Work: I work with fibre optics like the ones that you get really fast internet through, but I'm using them to take pictures.

Read more

We can use fibre optics to get light from one place to another, and that means that we can take pictures of anywhere that we can shove them, like down your throat or up the other end, or in my case, inside your lungs. The trouble is, the pictures we get back aren't very good, so I try to work out ways to take better ones.

My Typical Day: Tea, emails, fiddling with tiny mirrors, chatting to people about better ways to fiddle, fiddling with tiny mirrors again, home

Read more

I come in, make a nice cup of tea, then if there's not too many people wanting to talk to me I go into a really dark lab with no windows, turn the lights off and try to get my laser beams to go in the right direction so that I can bounce them off things to take pictures. When I can't get it to work right, I ask the people who I work with for help, because they've done this kind of thing more than I have. I then go and try again to get the lasers going the right way. Sometimes they do, and then I have another cup of tea to celebrate.

What I'd do with the prize money: Make a podcast where people explain things to me that I don't understand

Read more

I'd make a podcast with my friend Dominic, who is also a physicist (well he's really an engineer, but he's doing a physics PhD like me). The idea would be to find a bunch of scientists who aren't physicists and get them to explain what they do, or their favourite bit of science. Believe me, if they can help me and Dominic to understand it, then you'll be able to understand it too.
My Interview

How would you describe yourself in 3 words?

Chatty, gingerbearded (which is one word, honest), excitable

What or who inspired you to follow your career?

I think my physics teacher Mr. Bowers: he was a cool geek before geeks were cool

What was your favourite subject at school?

Physics or Chemistry, depending on which teacher had most recently blown something up

What did you want to be after you left school?

A scientist. Or a bus driver.

Were you ever in trouble at school?

I'm apparently a bit of a distraction when I get chatty

If you weren't doing this job, what would you choose instead?

Someone who dreamed of being a writer but actually made coffee at starbucks.

Who is your favourite singer or band?

Right now? Lord Huron, I think

What's your favourite food?

Curries: all of them

What is the most fun thing you've done?

It's not so much fun as amazingly cool, but I saw a total eclipse in Oregon in the summer.

If you had 3 wishes for yourself what would they be? - be honest!

To see pictures in my head (I honestly can't), to be able to teleport (my mum lives almost 10 hours away), to have a big muckle orange for a heid.

Tell us a joke.

A bad limbo dancer walks into a bar...
My profile link:
https://ias.im/u.156206
---
---
---