Profile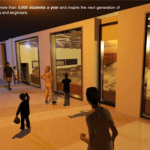 Jayne Ede
some good questions so far - am enjoying the chats!
Curriculum Vitae
Education:

Varndean High School (2001-2006), Varndean College (2006-2008), University of Southampton (2008-2012)

Qualifications:

I have a Masters Degree in Chemistry, but am also a Lowland Leader, Duke of Edinburgh Award Leader and Expedition Assessor, 2* Paddlesport-er and First Aid Instructor.

Work History:

Akzonobel (the people who make Dulux paints) and Dstl. Also the Air Cadet Organisation as a volunteer.

Current Job:

Hazard Management Scientist, DSTL
Favourite thing to do in my job: Help others to understand the science behind their work or everyday lives - it's all awesome.

About Me

A chemist (not a pharmacist!) in the week and a self-proclaimed wilderness explorer at weekends!

Read more

My name's Jayne and I'm 28 years old- nice to meet you!

I grew up in Brighton, East Sussex in the UK (probably the World's most cosmopolitan and fantastic city – in my opinion!).

I've always been interested in the military and when I was a younger teenager I wanted to join the Royal Air Force as a Pilot. I joined the Air Cadets which gave me some amazing opportunities including adventure training, a trip to Zambia, flying and gliding (I was a gliding instructor for 7 years). It was fantastic – and I'm now part of the organisation as an civilian adult instructor. In this role I mostly teach adventure training topics including the Duke of Edinburgh Award Scheme, navigation and  hillwalking. I also do a bit of climbing and kayaking/canoeing in my spare time.

I never joined the RAF, though! When I was at college, taking chemistry, I was totally blown away by the subject – it helped that I had a fantastic teacher who was very knowledgeable and always put up with my random questions, fuelling my interest further!

Long story short, I ended up reading Chemistry at the University of Southampton Southampton (also spending a year working in a paint factory!) and now work for the Defence Science and Technology Laboratory.

It's not all work though, as well as my outdoor pursuits I also play clarinet, am learning the Ukulele, put a lot of time into my volunteer role as an Air Cadet Instructor, and look after my 3 chickens (free eggs!)

My Work

I research decontaminants for very toxic and illicit chemicals

Read more

So, a nice marriage happened between my interest in the military and my love of chemistry when I accepted my job offer at DSTL. To be clear though, it was a tough journey of many rejection letters – a lesson in resilience itself!

I am a 'Hazard Management Scientist' – which is a fancy title for someone that uses chemicals to try to disclose or destroy toxic chemicals which can cause serious damage to humans. These include illicit poisons such as those used during the First World War (mustard gas, etc) and sadly during more recent years, but also toxic industrial chemicals which have legitimate uses but can also be extremely toxic to humans.

My Typical Day

It could be lab work, teaching, schools outreach(!), large scale trials, wearing a gas mask and protective suit, etc...

Read more

The way I go about this is varied! So I could be working on a really fundamental, brand new idea, still at the test-tubes and mixing chemical stage (think white lab coat and goggles like you're probably envisioning), or I could be helping to test new equipment – dressed like an alien in a gas mask and chemical protective suit.

I'm also lucky enough to be part of a training team, where we teach our military colleagues about science and equipment relevant to their job, and also to be a STEM ambassador, to spread the good word of science to young people like you!

What I'd do with the prize money

Get out there with some fun interactive and creative workshops to get people interested in science

My Interview

How would you describe yourself in 3 words?

Curious, outdoorsy, friendly

What's the best thing you've done in your career?

Trained with the Police/Fire/Army to respond to incidents involving toxic chemicals

What or who inspired you to follow your career?

My A-Level teacher, John - thanks John!

What was your favourite subject at school?

Science!

What did you want to be after you left school?

I wanted to join the Royal Air Force as a pilot until I was about 17

Were you ever in trouble at school?

Yes sometimes - I was very opinionated... and still am!

If you weren't doing this job, what would you choose instead?

An outdoor instructor, dragging people up and down mountains

Who is your favourite singer or band?

Tough one - would have to settle on my favourite rapper Aesop Rock

What's your favourite food?

Anything without gluten - I'm coeliac!!

What is the most fun thing you've done?

Parachuted from an aeroplane onto an island off of Holland

If you had 3 wishes for yourself what would they be? - be honest!

To have a jetpack (to fly me to the nearest mountains - not many in the south), to not be allergic to gluten (cake nightmares) and to be able to turn into a bear at will.

Tell us a joke.

I didn't believe it when my friends told me my mum had been stealing from her job as a lollipop lady... but she's got all the signs.
---
---