Profile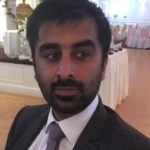 Sajid Javed
Curriculum Vitae
Education:

Bsc (Hons) Applied Biology, Newcastle University and PhD Molecular Physiology, Newcastle University

Work History:

Molecular Biologist, Diagnostics Technologies, Health Protection Agency, Porton Down; Senior R&D Scientist, MAST Group Ltd, Merseyside; Product Development Lead, QIAGEN, Manchester

Current Job:

Scientific Expert

Employer:

QIAGEN is a provider of sample and assay technologies for molecular diagnostics, applied testing, academic and pharmaceutical research. Consolidated under the Dutch holding QIAGEN N.V., the company operates more than 35 offices in over 25 countries. The main operative headquarters are located in Hilden, Germany (near Düsseldorf).

QIAGEN is a worldwide provider of molecular sample and assay technologies. Sample technologies are used to collect samples of tissue, fluids, etc. and stabilize, extract and purify various molecules of interest such as DNA, RNA or proteins from other cellular components. Assay technologies are then used to amplify (multiply) and enrich this small amount of isolated material to make it visible, readable and ready for interpretation. The separation and purification of genetic information is a basic precondition for further application or analysis.

QIAGEN provides molecular technologies offered as kits with open or specific target analytes. The company's current portfolio covers more than 500 products and more than 2,000 patents and licenses.
Favourite thing to do in my job: I really like working for a diagnostic company as the products we develop are used to help treat people and understand how to treat them and improve their health

About Me

I work as a research and development manager where i am designing and test which will help manage a patients treatment regime.

My Work

I work as a Scientific Expert for QIAGEN. I supervise a team of 8 people who are developing a test for HIV patients

My Typical Day

Every day is different. I have a weekly 'timetable' of meeting but outside of them i'm free to plan what i want and do what is required to complete the project.

What I'd do with the prize money

Donate the money to a local school and support with an activity to show what a career in science means.

My Interview

How would you describe yourself in 3 words?

Focused, optimistic and commited

What's the best thing you've done in your career?

Traveled US for a conference during my PhD to present my research to other scientists

What or who inspired you to follow your career?

When I was at college there were two major scientific breakthroughs, Dolly the sheep and the sequencing of the human genome.

What was your favourite subject at school?

Biology

What did you want to be after you left school?

I actually wanted to do what i am doing now which is to be a scientist

Were you ever in trouble at school?

I occasionally got in trouble but it was for minor things and nothing too serious

If you weren't doing this job, what would you choose instead?

Not sure, probably some doing something IT related.

Who is your favourite singer or band?

The Weeknd

What's your favourite food?

Indian food. I could eat it for breakfast lunch and dinner!

What is the most fun thing you've done?

Doing a banger rally where my friends and I drove from Manchester to Prague. We drove through and spent nights in 10 different countries.

If you had 3 wishes for yourself what would they be? - be honest!

I wish i wasn't losing my hair, i wish i was rich so i could go on nice holidays finally i wish the day was longer than 24hrs

Tell us a joke.

What's brown and sticky?
---
---